Tattoo Removal
Our Staff | 05/16/2022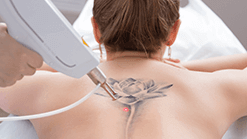 Did you know that 40% of Americans aged 18-34 have tattoos? While these permanent works of art can act as memorabilia, honor loved ones, and reflect personal style, people sometimes regret getting inked. In fact, it is estimated that roughly 12% of people regret getting one or more of their tattoos. Ciao Bella utilizes the latest technology in tattoo removal service to give you the fastest, most comfortable treatment yet. Learn more about this procedure and the results you can expect.
ClearLift™ Alma Harmony XL PRO
This state-of-the-art technology is widely considered to be the best tattoo removal system on the market. Specifically designed to target all ink pigments, ClearLift™ uses a q-switched ND: Yag laser to break down pigment in the deeper layers of skin. As you heal, your body eliminates the ink fragments through the lymphatic system. What's more, ClearLift™ can be used safely on any part of the body and on darker skin tones.
Fewer, More Comfortable Sessions
The secret to ClearLift™ lies in the switched wavelength, rapid pulsing laser energy. It's both precise and non-ablative, leaving the outer skin undamaged. As a result, you'll experience only minimal downtime. Some patients note a feeling of tenderness, like a sunburn. This platform is so effective, that you'll see dramatic results in just a few sessions. Depending on the size and color of the tattoo, we will recommend a number of treatments to ensure full removal. Plus, the built-in cooling system provides a comfortable experience.
If you're unhappy with a tattoo, but have been on the fence about removal, set up an appointment to discuss your concerns with us. In the past, the process of removal may have been cost-prohibitive and offered less than ideal results. But now, ClearLift™ technology allows us to remove even the most stubborn tattoo quickly and affordably, so you can move on with your life.